Time Wasters - Time Wasters (1978)
21
avr.
2011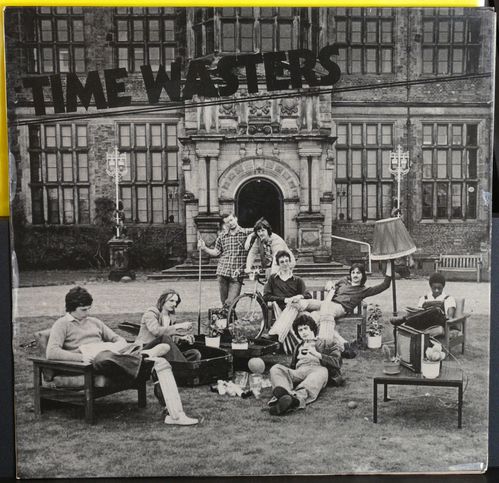 Choisir d'abord un nom engageant. Monter ensuite une brocante devant un manoir de briques roses de style jacobéen. Prendre la pose sans la prendre, afficher des airs détachés, entre indifférence et désinvolture...

Pour un peu, les Time Wasters nous donneraient l'impression d'un groupe qui s'excuserait d'avoir enregistré un disque. En fait, l'auto-ironie du nom de ce "supergroup" d'étudiants venus visiter l'Ingestre Hall Residential Arts Centre et sélectionnés par son fondateur en 1977, Greg Holt, sonne comme un démenti au tout-venant des productions High School. Pas de temps perdu à l'écoute de ce LP, mais des titres de grande tenue, que l'on doit à deux auteurs, Chris Stevens et Tim Pye. Enregistré dans les conditions du live et avec peu de moyens sous la houlette de Greg Holt, l'album surprend en se tournant résolument vers l'Americana, entre folk minimaliste (guitare & harmonica) ballades plus bluesy ou plus pop (piano & cordes) ou quelques incursions soul-jazz instrumentales d'excellentes factures.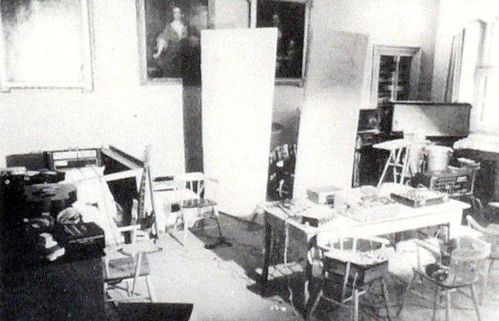 I've probably grown to love the student projects more than anybody else. When I listen to something like this, I remember why. It's all you want to hear...
Who are these guys who chose this self-mocking name, sitting among second-hand stuffs in front of a rose brick Jacobean mansion, looking nonchalant, reading newspapers and drinking soda?
I'll not dwell on the Time Wasters's story. You'll find lot of info and more in the interview I conducted with Greg Holt aka the driving force of the Time Wasters. To get to the essentials, in 1977, this teacher made a supergroup by recruiting the best students (9 in total) that in met in different schools. Two of them were particularly good: Tim Pye and Chris Stevens who can go from folk, folk-rock to jazz brilliantly. They composed all the songs (note that the first tune is a co-composition of Tim Pye and a certain Fenton, who isn't in the band), encouraged by Greg Holt, not only the "captain", but also a member of the Time Wasters (backing vocals, drums, and congas).
Do not be fooled by the band's name. All songs are superb from the opening track to the last one and most of them have an introspective quality and lyrics that possess a disarming sincerity. There is superb musicianship on display here (soul-jazz tunes like Balloons and Seventh Waves are further evidence of this). Time Wasters is very worth checking out.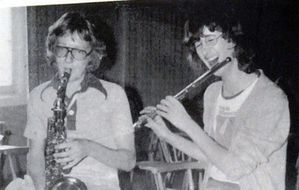 Won't Get to Heaven

Not Fit for your Love

Last Words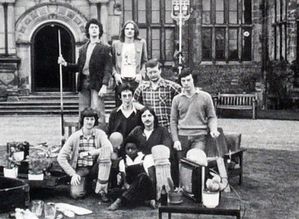 Who are you Mr. Greg Holt?
That's a tricky one to start with! Well, I can say I am a British musician with a background in classical and popular music genres. My web site gregholt.co.uk lists some of the roles I have played in the arts and music in particular.
Have you been involved in other music projects before the Time Wasters LP? What projects?
I had been playing classical, rock and folk music since I was a teenager in the 1960s and had continued during and after university, where I read Music. I had done several recordings as a performer before I founded The Time Wasters.
How and where did the band meet? Were they friends?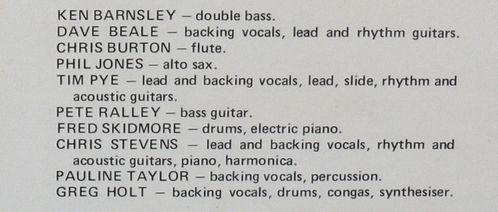 They mostly did not know each other before joining the group. Whilst running creative workshops at Ingestre Hall Residential Arts Centre, in Staffordshire, England, I recruited them from different schools which visited the Centre and formed a "supergroup"! There was a loose pool of musicians which changed over the years as they went off to do different things and new ones came along. The main purpose was to encourage their musical development collectively and as individuals.
What were the influences of the Time Wasters?
Certainly the Beatles. I think Neil Young was a favourite of some of them. I guess the Beach Boys too were an influence; and later on American bands with percussion instruments; and some jazz. I always encouraged their song writing so they mostly did original material.
What can you tell us about the genesis of the album and your specific role?
I decided to do the album to showcase their song-writing and performing talents. It was very "low-tech" - just recorded straight onto a couple of Sony reel-to-reel tape recorders. I had no experience as an engineer but this hardly mattered as the process was very simple. It was effectively a "live" recording in the main.
Was it difficult to be the driving force?
Not at all. I was on the staff and they were all students but our age gap was not very wide and it was all very creative. It was made easy by the quality of their talent and their enthusiasm. Having two really good song writers in Chris Stevens and Tim Pye was brilliant. We all became good friends. We were helped on the technical side by Doug Taylor, who, thirty years later, has created my website.
Who chose the name of the band and why?
I did: it was a joke based on newspaper advertisements for musicians to join bands, which would sometimes end with "No time wasters"! So I called them "Time Wasters Only" and the generic name for any of the musicians in the pool became Time Wasters.
Is there a hidden message?
As well as the initial joke about the adverts there is also a play on the words "time", which could relate to musical beats, and "wasters", as in the American sense of wasted meaning incapacitated by too much imbibing!
How was the LP distributed?
I took advance orders from their friends and fellow students and had a limited edition pressed. That was it. There were about half a dozen left and you now have one of those!
Did the LP reach your expectations?
Yes, I think it came out better than we expected: and it encouraged many of them to do much more music. It has also stood the test of time, judging by recent reactions, including your own.
What happened after the Time Wasters LP?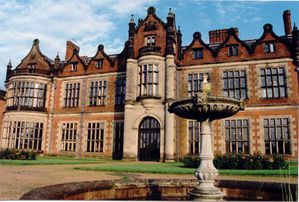 The line-up changed fairly regularly, depending on who could attend the workshops at Ingestre, with some who had missed the LP sessions returning and several new people being added to the pool of musicians. There were different performing combinations according to the occasion. Two of those who were on the first LP (Tim Pye and "Fred" Skidmore) and two who had missed those sessions (Jon Pye and "Benny" Bates) did some recordings on Ariola as The Time Wasters and made an LP called "On The Street", with which they were disappointed. After that some more recordings were made at Ingestre Hall until I left at the end of 1983 (to go to Aston University Arts Centre) and from then on, to this day, multiple home-made albums have been made, by several former Time Wasters, either individually or together, initially on cassette and then later digitally on CD. I didn't produce any of the Time Wasters recordings after the first LP but I did play on some of them from time to time.
Together with the extant recordings of the Time Wasters and many other people that I have played with, before and since, the surviving tapes, cassettes, video soundtracks and, more recently, computer files of musical recordings, performances and rehearsals have been archived on CD as my Personal Records back catalogue. Meanwhile the Sticky Label continues to produce student work under the direction of former Time Waster Jon Pye.
Many thanks Greg.