The Folk Choir - St. Aidan's Folk Choir (1974)
09
mai
2013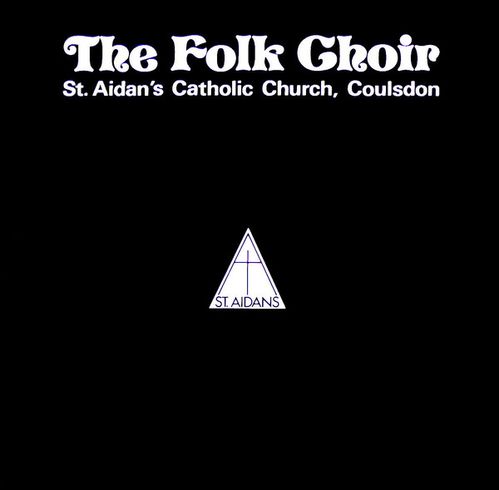 Le dessein de cette chorale n'est pas sans rappeler celui de Frances Mary Hunter Gordon, qui voulait à sa façon faire entrer l'Eglise dans la modernité en apportant sous son toit, sa musique, celle d'une jeune fille de 15 ans à l'époque du Swinging London. C'est a peu près à cette même période que l'histoire de The Folk Choir débute :
"A dozen or so youngsters, a curate with some skill with a guitar and a keen interest in introducing a new form of music to the Mass: this was the origin of the current Folk Choir of St. Aidan's. The group, formed in 1967, was led by Jane Rees, who played the guitar and rapidly built the experiment into an established choir, providing an addition to the existing liturgy. It was not long before the group was joined by the young and talented Stephen Church, whose high standard of guitar playing was matched by a considerable ability to compose both words and music to create not only a new Mass but also a wide range of songs or hymns to broaden the repertoire of the relatively traditional folk range of the Choir. Stephen took over the leadership and, as the membership increased, it included several people who - like himself - were not Catholics but were all united in their youthful zeal for a contemporary from of Christian worship which ultimately evolved into a regular Family Folk Mass. In 1971, Stephan handed back the leadership to Jane. At this time, Jane was recruiting the nucleus of what was to be the second generation.
By 1973, a great deal of new material had been contributed by various members, and the choir had an extensive original range which provided many opportunities for it to sing not only at other churches of a various denominations, but also in aid of several charities on numerous occasions and in a wide variety of locations in the South of England. When, in turn, Jane retired from the leadership in February 1973, she handed over to Dave Carroll. Dave is the leader of what is by now the second generation Choir, all the original members having retired; most of them, however, still attend the Folk Mass every Sunday.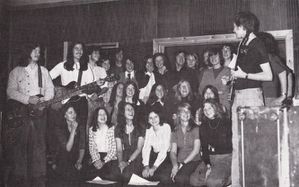 The Choir which Dave leads varies in number between twenty and thirty. This is because nearly all Choir members - whose average age is approximately 16 1/2 - are students, and several are away for many weekends during the year. As did their predecessors, the present Folk Choir give up a great deal of their free time to practice and perform at St. Aidan's, as well as to continue the tradition of meeting as many as possible of the numerous requests they receive to sing elsewhere."
Comme souvent pour ce genre de disques quand ils sortent du lot, il en coûtera aux amateurs leur dîme de rigueur. 2 copies sont connues dont une partie pour 227 GBP.
Long Road
Roll that Stone Away
Lamb of God