The Evergreen State College - Collaborations (1980)
15
août
2010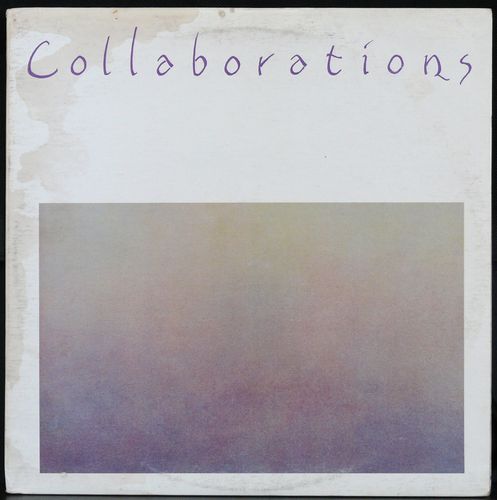 Un gros poisson, assurément. Improbable double album (plus d'une heure et demie de musique) enregistré en 1980 par les étudiants d'Evergreen State College, école de musique située à Olympia dans l'état du Washington, Collaborations laissait craindre des limites inhérentes au genre - hétérogénéité, exercices de fin d'étude. Les écoutes renouvelées ont tôt fait de balayer toute déception. Quelques scories, des titres dispensables, dont le morceau d'ouverture (sorte de traquenard à la sauce banjo), mais un résultat qui dépasse le simple cahier des charges annoncé, si ambitieux soit-il.
Si l'album n'est corseté dans aucun genre, deux orientations musicales se dessinent pour chaque LP. Le premier couvre le spectre de la musique populaire (pop/folk, jazz et funk) quand le second s'aventure vers une musique plus savante et expérimentale (progressive, contemporaine et même concrète). Il y a au total 23 titreset pour chacun d'entre eux, leur genèse est rapportée à l'intérieur de la pochette. C'est avec une souplesse olympique qu'Evergreen réalise le grand écart parfait, avec pour seule constance, la qualité.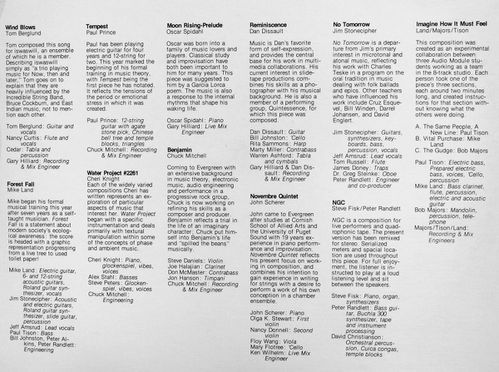 Hear Me Love (Rick Howard)
Rick Howard : Piano, Polymoog, bass guitar, vocals
James Swers : Trumpet, french horn
John Hanson : Drums
Thom & Karen Farris : Recording & Mix Engineers
Rick learned to write music at a young age through teaching himself to play popular songs on piano and guitar. He hopes to convey through music joy he experiences in creating it. Hear Me Love seeks to express the happiness of a care-free adolescent love through its active, colorful melody and simplicity of form.
Lullaby (John Klayman)
Jon Klayman : Classic, folk, and electric guitars ; Polymoog, percussion, and background vocals
Gary Tipton : Vocals
Chuck & Mitchell : Recording & Mix Engineer
After taking violin lessons as a child, Jon taught himself to play guitar and piano, and began to compose at age nine. Lullaby is a departure from his other recent compositions, which are more experimental and abstract. It's a "late twentieth-century love song" that tries no to be too sentimental. The "Poetically twisted" reality.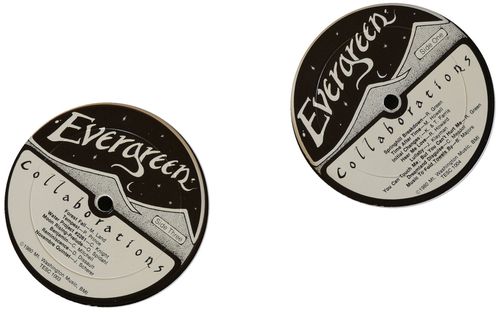 Home Again (Joseph Schlick)
Joseph Schlick : Vocals, guitar, production
James Doney : Percussion
Steve Fisk : Synthesier, Keyboards
Peter Randlett : Bass, engineering, production
Joe's primary interest is in the ensemble aspects of the compositional process. This piece began as a general structure with lyrics. The performers, through rehearsal and performance, developed their parts to complete the song.
No Tomorrow (Jim Stonecipher)
Jim Stonecipher : Guitars, synthesizers, keyboards, bass, percussion, vocals
Jeff Amsrud : Lead vocals
Tom Russell : Flute
James Doney : Traps
Dr. Greg Steinke : Oboe
Per Randlett : Engineer and co-producer
No Tomorrow is a departure from Jim's primary interest in microtonal and atonal music, reflecting his work with Charles Teske in a program on the oral tradition in music dealing with folk ballads and epics. Other teachers who have influenced his work include Cruz Esquevel, Bill Winden, Darrel Johansen, and David Englert.