Snakehips - Snakehips Arnold and the King of Boogie (1974)
11
oct.
2011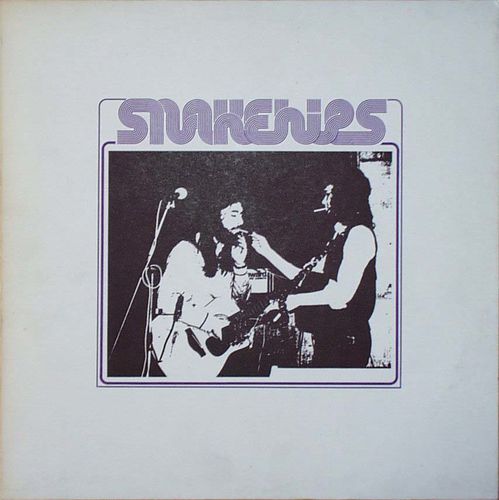 There's no secret anymore: some of the finest bands and artists from Cambridge have passed through the Spaceward Studios. Snakehips is one of them. And just like Gigymen, the band met at Emmanuel College. It consists of Dave Goldberg (vocals, guitar, little plastic guitar), Mark Harrison (lead guitar, mandolin, vocals), Doug Arnold (vocals, harmonica, guitar) and Gerry Dudgeon (bass guitar on Lost Property). Snakehips Arnold and the King of Boogie is really solid all the way through. As expected with this album title, some tracks are a freewheeling mixture of jug band boogie, vaudeville and folk which are delivered with humor ("Los Property", "Vodiodo", "Kung Fu Bop") but the band stretch out into other styles with great moments. Some are jazz tinged folk numbers ("Hirondelle"), some have a great 50s feel to them ("Me and Susie", "I'm so Lazy"), others are utterly beautiful ballads that turn on a couple of chords, a quiet male voice and strong lyrics ("Valerie", "Silence").
Fans of private press oddities will definitely find a lot to like in Snakehips Arnold and the King of Boogie - a truly good lost album that definitely deserves to be heard by more people and to be re-released (same scenario as the Gigymen - a very small number of copies and near impossible to find now). Doug was kind enough to tell us a little bit more about it.
Valerie
We Can Make It Alright
Silence
So here is a bit of the history as I remember it.
The text on the back cover says the album was recorded in June 1974, and - like everything else on the back cover - I think this is correct. It was recorded in one afternoon in a room in New Court of Emmanuel College (in Cambridge). We did everything in one take, except for one track where we screwed up at the end, so we did two takes. It was my final year as a student, and I had been a regular in the Emmanuel College Folk club since it started in my first year. I met Mark (Harrison) and Dave (Goldberg) in October 1973 when they began as first year students. Dave had been to the same school as a friend of mine, so I met him first, and we did a set at the club. Dave played next, and did a hilarious parody of me.
In January, another friend of mine asked me if I would go out to the big Mental Hospital outside Cambridge (the name escapes me, but it was famous in its day) where he was a kind of intern, and do a set. I think the idea was that on Sunday evening people came in to the hospital to entertain the residents. I said I thought this sounded like a not very good idea, since an hour or so of the kind of monotonous introspective stuff that I did would not exactly lift the hearts of the institutionalised. But he was insistent. So I said that instead, I would bring a couple of friends along, one of whom was good (Mark) and one of whom was hilarious (Dave), and we would each do a few songs, and that would be not so bad.
Mark and Dave were enthusiastic, but not for the "let's each do a few songs" - no, they said, we will *write* a few songs and do them together. Off we went to the pub. The pub had a sort of "tell your fortune" machine that you put a coin into, and it would indicate some mundane message. One of them put a coin in: "whatever it comes up with, we will write a song about that". It came up with "spare a minute". So they wrote a song with that title. Lyrics in the pub, chords a bit later (NB *they* wrote it, my musical input was at all times minimal). I just now notice that this song is not on the album, so I'm afraid that anecdote is useless, but I am in stream of consciousness mode so I will leave it in. But in fact, this sort of random event was a source for several songs (Hirondelle was the name of the cheapest French wine you could buy at the time, Valerie was the name of a girl they chatted with for ten minutes at a gig, etc.).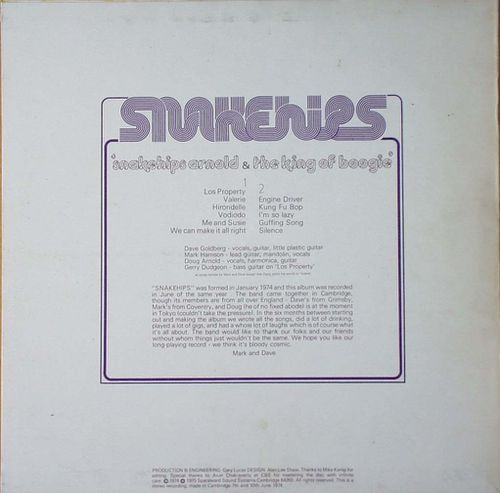 So we turned up at the mental hospital with a few songs that we could bash out together, including one home-made one. And as we were about to go on, my friend said, so what are you called? We had not thought of this. But I said that I thought Mark was the king of boogie, and I had always wanted to be called Snakehips. So that was that. Please bear in mind this was in my mind strictly a one-off.
It was not bad. The audience enjoyed it (I suppose, given the alternative was nothing at all, which was what they had for entertainment most of the time, this does not say very much). So we decided to do the set again at the Emmanuel Folk Club, and then at some of the other folk clubs, and Mark and Dave continued to produce songs at an impressive rate. And we started to get gigs all over the place. That Easter we did some gigs in Liverpool, thanks to a friend of Mark's who was a student there. By the time we thought about changing the name to something sensible, we were beginning to be known (a bit), so it never quite seemed to be the right time.
The chaps from Spaceward Studios often provided the PA system at the clubs in Cambridge, especially Emmanuel, so we got to know them quite well.
So it comes to June, and I am about to leave Cambridge, and Mark and Dave say we really should record this stuff so that we don't forget it all. So our friends from Spaceward set up the mics and tape recorder in one of their rooms, and we played all the songs, and I went off to Japan to teach English.
I don't really remember why we got Gerry Dudgeon to play bass on one track. He was a friend, and a very good bass player, and Mark and Dave were always keen to try new things and new line-ups. We were playing some May Balls about that time (All Night events with huge numbers of acts and vast amounts of alcohol), and it may be that the main idea was to get Gerry in free as a member of the band. I think the recording took place on the afternoon before one of the balls, hence he was around, with his bass. (Incidentally, that May Ball featured on its line-up Desmond Decker, the Troggs, and Mike Chapman - the first two a bit past their best, and the last not at his best, but impressive even so).
I don't think there was any plan to make a record when we made the recording. But sometime in late 1974 or early 1975 they did turned the tape into disk. I was in Japan, and only found out much later. I did not see the album for two years until I came back from Japan, and saw the copy Dave and Mark had given my parents (that's actually the only copy I have ever seen!). I don't know how many copies were made. I doubt many were sold. The cover photo shows Mark lighting Dave's cigarette (we smoked constantly - really, from first waking up). I'm not in the photo because I was in Japan by then. One thing you can't see from the photo is how strange we looked on stage. I'm nearly 2 meters tall, Dave was average height, and Mark was about 1.5 meters.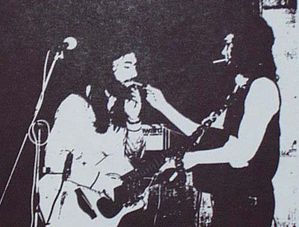 Mark and Dave both had two more years as students, and given their huge talents, I firmly expected them to do something impressive. Individually they were fine musicians, good song writers, together they were amazing. They carried on doing stuff, but did not manage to keep it together when they stopped being students. Dave went back to Grimsby and eventually got a job in a bank, Mark went back to Coventry, then moved to London. He had a band (The Heaters, I think) that looked promising for a while, but never got anywhere really (though they released at least one single).
One of the songs on the Album (We Can Make it Alright) had an afterlife. Mark had been at school with Jerry Dammers (The Specials, etc). Jerry heard this song, and liked it, so he rewrote it as "It Doesn't Make it Alright" which is on the first Specials LP. It's a much better song, and the writing credit is properly shared between Harrison Goldberg and Dammers.
Doug Arnold.