Phil Webb - A Collection for the Future (1977)
05
juil.
2011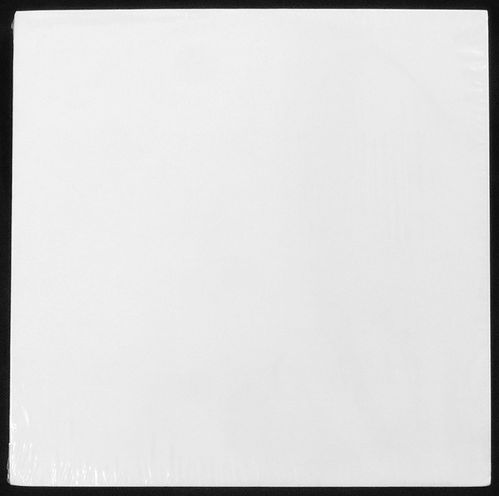 A Collection for the Future, disque démo paru en 1977 nous est présenté par un certain Phil Webb, chasseur de têtes et producteur émérite qui, en bon perdant magnifique, a à peine réussi à offrir aux artistes de la compilation susdite - les présumés frères Alexander (les popeux), R. King (le cowboy) et Richter (le rocker) - un brin de renommée auprès de je-ne-sais quels archéologues de salon. Il faut dire que l'album est rarissime.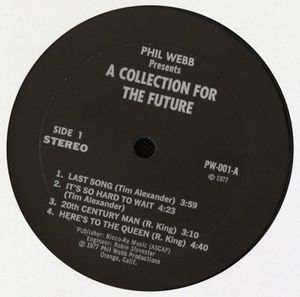 Une collection étrange mais cohérente (section rythmique commune à tous les artistes), définitivement westcoast qui, au gré de duels guitaristiques épiques (subrepticement psychédéliques), notes de piano retenues et mélancoliques synthés, célèbre une pop seventies étincelante. Beaucoup seront marqués par la voix hors-norme de Terry Alexander, pas si Chipmunk que cela, mais concédons-le, bien plus aiguë que la normale ! Addictif. On appréciera aussi les quelques incursions country ("20th Century Man", "Here's to the Queen"), qui ne font que rendre la collection plus attachante encore. Le dernier titre (signé Phil Webb himself) fait un peu la synthèse de l'album.
Tirez le Phil et vous resterez accroché dans la toile.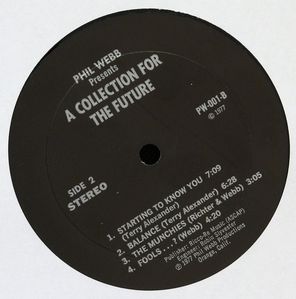 In addition to the great Acid Archives review, check out this seller's description:
« Never seen or heard of before 1977 california private pressing demo LP entitled "A Collection for the Future". A very bizarre LP with electric acid leads, strange lyrics and covering the spectrum from dreamy melancholy psych rock, a couple of soft psych tracks, a rural track with loungy vocals but also some heavier moments with good distorted guitar solos. Highlights are the 7 minute "Starting to Know You" with bizarre munchkin vocals, "Fools" with odd arrangements and acid guitar and "It's so Hard to Wait" a catchy pop psych number. A very unique LP that will appeal to well traveled ears and obviously extremely rare ».
It's so Hard to Wait

Starting to Know