Phase II - Another of My Mistakes / Lets Be Friends (1978)
27
oct.
2012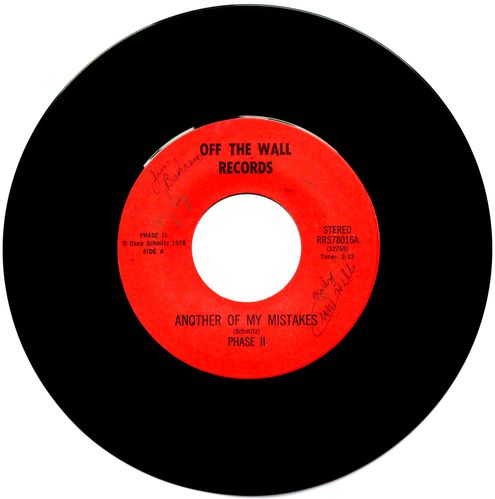 Qui dira les vertus de l'exil, la fécondité de l'isolement ? Combien de vocations nées de ces heures volées à l'ordinaire comme autant de béquilles imposées par les circonstances ? Prenez Dana Schmitz et Jim Behrens. Tous deux de 1961, fils ou beau-fils de militaires, ayant à compter avec les obligations de l'US Air Force, six ans en Allemagne pour l'un, quatre en Espagne pour l'autre, se rencontrant à Omaha lors d'une nouvelle affectation dans le Nebraska. Précocité de l'un qui a trouvé refuge dans la musique, seul langage sans frontière, qui pratique la guitare avec l'acharnement des autodidactes et s'essaye à l'écriture quand d'autres jouent à la balle. Facilités de l'autre qui, d'élève, en viendra à dépasser Dana, maître qui ne connaissant pas le solfège, joue à l'oreille. Unis l'un et l'autre par un même amour pour les quatre hérauts de la British Invasion. Faisant avec les moyens du bord, affûtant leurs armes au gré de formations successives quand, ce qui n'était qu'un quatuor de guitaristes revêt des airs de vrai groupe lorsque Kirby Hills prend la place de batteur et Steve Bailey celle d'un bassiste de circonstance. En cet été 1978, sont pressés 100 copies du 45t de Phase II - c'est le nom qu'ils ont choisi - tôt écoulés parmi leurs connaissances sur le campus.
Regardez- les. Agés de 16 ou 17 ans, en paraissant 14, ils rêvent d'être les Beatles. Pour deux fois 3 minutes, ils seront les Beatles pour toujours ou quelque chose comme çà. L'époque n'est en effet pas absente de ces petites chansons dont parle Dana Schmitz, d'autant que la production résolument low-tech (ah ! ces clap hands chétifs, cette guitare abrasive) accentue le petit côté pré-punk power pop qu'on croit y déceler.
Après deux ans d'existence, Phase II cède la place à Variety à qui l'on doit un 45t paru en 1979 ("Do You Think I Am ?"), et qui forme l'ossature du groupe fondé par la suite - The Memos - qui officiera jusqu'au début des années 90. Mais ceci est une autre histoire. Et surtout, une autre musique.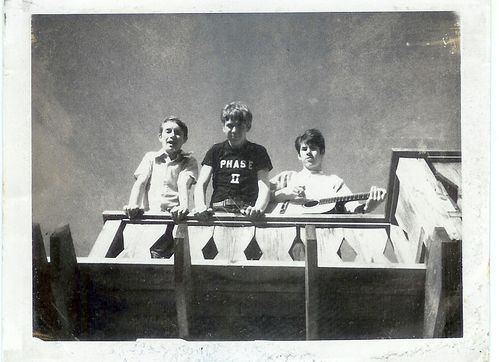 Look at these guys! Sixteen or seventeen year olds but seemingly much younger. What the hell IS THIS? Actually, a McCartney-ish lo-fi 45 rpm with a downer vibe and that has a slightly punky quality (listen at that wicked guitar). 100 copies pressed in the summer of 1978. Here is the story of this 7 as told by the lead songwriter, singer and guitarist Dana Schmitz (Another of My Mistakes):
« At the time (mid '70s), one of our only real big influences was still the Beatles. To this day, I think I've always tried to write neat little melodic 'intro-verse-chorus-verse-chorus-bridge-solo-chorus-fade' types of 3-minute songs. At the time, this was one of my more advanced ones, melodically and musically. What I think is funny about a lot of these early songs ("Do You Think I Am?" included) is that I'd never had a girlfriend, never been on a date, never kissed a girl, didn't even have any girls I could call close friends but I was writing all these (very immature) tragic love songs! I don't know why. My favorite memory of this song, is that when it first came out, we were still at the age where we would go to the roller skating rink a lot, as kids do. We gave the DJ at the rink the 45 of "Another of My Mistakes", told them we were a local band and asked if he could play it during the skating session. He did, and I remember, skating around the rink by myself savoring every second, every note. Mixed in with all the other top 40 music of the day, they're actually playing our record! We never played it as well live as it was on the record ».
Further information on it here.
Another of My Mistakes
Lets Be Friends