Pete Pitts - Long Haired Lady / Soliloquy (1972)
17
avr.
2012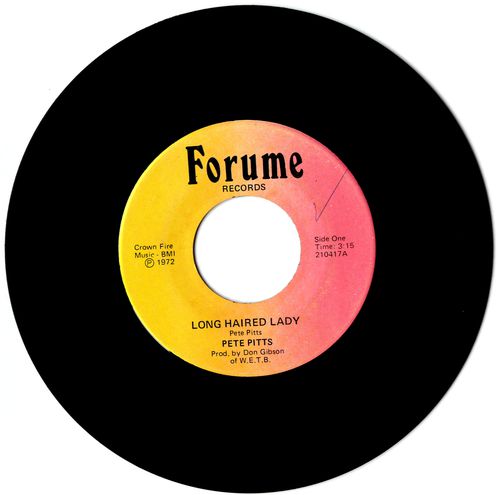 Quelque chose dans la voix - en plus aérien toutefois - de Doug Yule. Même nonchalance et même quant-à-soi rêveur que chez le plus négligé des membres du Velvet. Une rythmique qui fait patte de velours, une guitare jangly comme un envol. Un côté Bluebyrd aussi. Des destins qui se croisent et quelques regrets - la grammaire du sentiment de toute romance qui se respecte. Pourquoi faut-il que ces deux titres ne soient pas extraits d'un LP, quand bien même ces deux titres suffiraient à promettre à Pete Pitts, illustre inconnu, un destin plus glorieux ?
Long Haired Lady
Solliquoy
Should I keep that little treasure just for me? Maybe... Anyway, I love everything about it. I love the quiet vocals, a something that resembles Doug Yule's fragile voice. I love the jangly guitars, the sweet rhythmic drive. I love the lyrics, the happenstance of love. Who and where are you Mr. Pitts? If you see that message, then, please, let us know your story.
Has anyone has ever heard of him? Any info would be greatly appreciated.