Morley Loon - Cree Songs
02
sept.
2011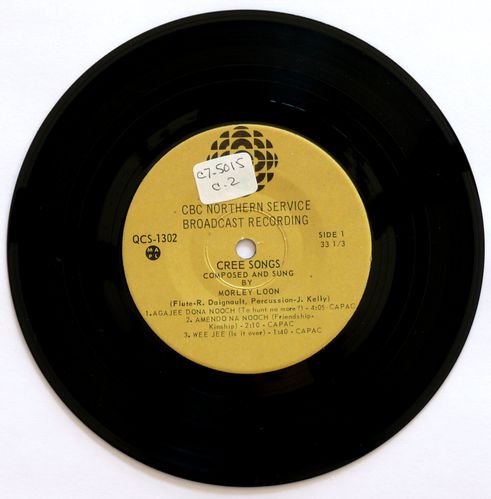 J'écoute Morley Loon et l'envie me vient de parcourir l'ensemble du catalogue de la CBC Northern Service Broadcast Recording et de ses quelques 120 7-inch pressés chacun à 500 exemplaires. Non pas qu'une quelconque vocation d'ethnomusicologue m'étreint : je suis simplement aux confins du Canada, très loin, gagné par la mélancolie, cédant à l'irrésistible appel d'une procession qui m'échappe.
Agajee Dona Nooch (To Hunt No More)
Wee Jee (It Is Over)
Yoo Indo Deem Awin (Hunter's Spirit Song)
Right now I'm listening to Morley Moon, a Canadian native singer that makes my want to dig out all the records of the CBC Northern Service Broadcast Recording which released about 120 singles/EPs in the 70s. It's not that I want to become an ethnomusicologist: I'm just in the middle of nowhere in Canada, giving way to an eerie procession.