Jon Tabakin - Jon Tabakin (1975)
17
juil.
2012
Pas la peine de finasser. Jon Tabakin a écrit douze fois la même chanson. Douze 'love songs', ainsi qu'il est fait mention en notes liminaires, qui n'en sont qu'une. Ou du moins résumable en propos dont la teneur serait peu ou prou « l'amour peut tout, l'amour est tout, l'amour n'est rien mais ce rien est tout ("It's the Little Things"), l'amour passe, est remémoré ("Where Are the Angels?"), l'amour renaît et le monde recommence ("It's Never Too Late To Smile") » .
Que ces clichés parfaitement assumés et sublimés par un songwriting malin trouvent leur traduction dans un assortiment de pop-songs qui doit autant à des Beach Boys dépouillés et joviales (pas de versant dépressif, pas d'harmonies déchirantes ni de montées dans les aigus douloureux) qu'à un Pilot low budget (pour la touche pure sucre mid seventies) et l'on comprendra combien il y a de plaisir à prendre à l'écoute de ce LP entièrement joué et produit par un diplômé en musique de l'Université de Californie. Porté par un souffle léger, étranger à tout sentiment d'affliction, ce disque rebutera les esprits chagrins qui crieront à l'inconsistance ou à la crétinerie. Les autres, pour qui 'a good melody is like a good friend' savent qu'ils viennent de faire quelques connaissances qui ne leur feront pas défaut.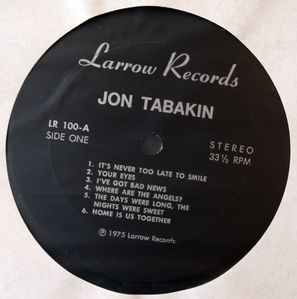 With this homespun effort released on the tiny Larrow Label, Jon Tabakin has crafted an exhilarating one-man pop reminiscent of the more lighthearted Beach Boys moments blended with a low-key Pilot. A great set of songs that deal with romantic antics and a smart range of feelings. If, as said on the cover « A good melody is like a good friend », this is an LP the lucky few who hear it will embrace like an old friend.
Your Eyes

I've Got Bad News

The Days Were Long, The Nights Were Sweet

Let's Do It Again