Gigymen - Gigymen (1974)
27
mai
2011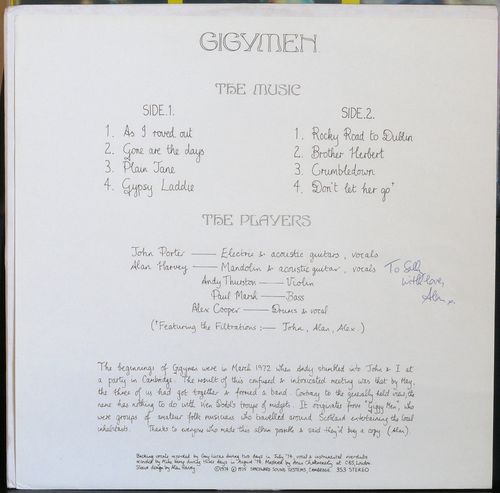 Il y a bien longtemps que la réputation de l'Université de Cambridge et de ses augustes Collèges n'est plus à faire. Si rien ne laisse présager que cette véritable institution britannique perde de sitôt son lustre, une époque semble pourtant bien révolue. Une époque pas si lointaine, celle des mid-70's, un temps où fleurissait alentour une scène folk-rock d'étudiants s'employant à jouer la musique qu'ils aimaient, quand ils ne l'enregistraient pas. Un temps où deux étudiants pouvaient créer leur studio - ce qui deviendra un studio - et produire les groupes qui les avaient enthousiasmés, nous gratifiant au passage de quelques joyaux. Parmi ceux-ci, Gigymen brille d'un éclat singulier, Il faut dire que le LP surprend tant par sa maîtrise et ses arrangements qui le hissent au rang d'illustres devanciers (c'est particulièrement vrai pour ce qui est des reprises dans la lignée de Fairport Convention, Trees et autres Woods Band) que par ses originaux dignes des meilleures productions labellisés Lennon/McCartney (sublime mélancolie feutrée de Plain Jane). S'il ne fallait ajouter qu'un seul disque à la seconde édition de Galactic Ramble, celui-ci aurait toutes les chances d'être l'heureux élu.
As with Oxford, Cambridge University has seen many of its students go on to achieve great things. However, if Cambridge was the city of all dreams in the mid-seventies, it wasn't only for its world-renowned university, but also for the vibrant musical community around the college circuit. Gigymen was one of these bands and one of the best, if not the best. A live band of high-calibre musicians, as their name indicated, mainly influenced by Fairport Convention and The Beatles. They recorded an album at the Spaceward Studios and world is so small that it was engineered by the classmate of Alan and John, Mike Kemp himself along with Gary Lucas. The result is simply amazing and very professional. The Gigymen LP captures the best of the private press world (only 100 copies were pressed), but it doesn't really belong to this world. If we had to select only one album for Galactic Ramble second edition, this album could be the perfect choice.
Plain Jane
Gypsy Laddie
Crumbledown
Interview with Alan Harvey (mandolin & acoustic guitar, vocals)
What were the circumstances behind Gigymen? What about this "confused and intoxicated meeting" of March 1972?

Must have been a college party of some kind - John and Andy might remember better than me.

As mentioned on the sleeve, the band name refers to groups of amateur folk musicians who travelled around Scotland entertaining the local inhabitants. Was your goal to exist as a performing band that played gigs?

My mother told me about the name - she told me that Giggy Men was a general name (not sure how true it was though!), and that her father was in one such troupe - they called themselves the Herd Laddies. Yes we wanted to play gigs obviously - no point in rehearsing otherwise!
What sounds and major group's works would you say influenced Gigymen?

Cannot speak for the others but for me the main influences for this incarnartion were Fairport Convention, Steeleye Span, Trees, The Woods Band, oh and we loved the Beatles too.

Your LP was released by the Spaceward Studios. How did you come into contact with Mike Kemp and Gary Lucas?

Through college - Mike was at Emmanuel with me and John.

Was there any relationship between the bands featuring in The First Lame Bunny Album? Were there any bands around Cambridge that you found interesting?

We knew many of the players in those bands from around the college circuit - we enjoyed most of the music around at that time (1971-1974). Interestingly, Kimberly Rew in Puzzle ended up in the same band as our drummer Alex Cooper (Katrina and the Waves!)

What are your memories from the recording sessions and the production of the LP? Do you recall how much time was spent in the studio?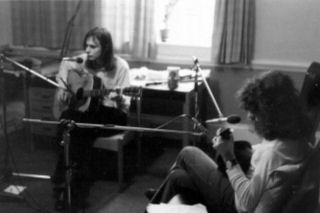 Photo by Mike Kemp
Sound never did capture the sound we got on stage - especially the rhythm section which really motored, the bass goes missing in many places. Partly due to the recording problems in isolating acoustic from electric instruments... I seem to remember playing a lot of mandolin stuff sitting in the bathroom with a carpet as a door baffle...

I understand you sing the traditional songs and John Porter takes over the lead vocals for his own songs?

Yes - except for Rocky Road which John sings, and I lead on Gone are the Days

One of the key assets of Gigymen sound is the way of merging folk with rock esthetics, like Fairport Convention. I am blown away by the traditional folk's cover songs and their harder-edged folk-rock arrangements while some original tunes are very pop Beatles sounding with a traditional instrumentation. Do any of these references make sense to you?

Yes! - John very influenced by the Beatles, and we had a rhythm section that did not really listen to folk at all - they came from rock backgrounds and they just blended in... the late Paul Marsh was a huge fan of Phil Lesh of Grateful Dead, and played lke him sometimes - rythmic but melodic!!

Crumbledown (also known as Tumbledown on The First Lame Bunny Album) is one of the strongest numbers on the LP. Is there a story behind that one? The Swan by Baudelaire spring to mind.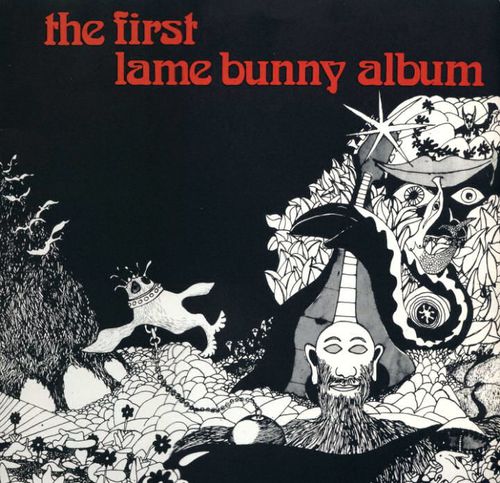 Ask John about that one - his excellent song!!
John's answer:
The Tumbledown song was inspired by a documentary I saw about plans to re-develop Shepherd's Market in Soho London but also inspired by other planned redevelopments of run down but charming parts of old cities.
A word about the sleeve?
Cheap...

Any recollection of how many copies may have been pressed?

100 I believe - no more, no less!

Was the LP available in record stores or was the distribution mostly to friends and family?

Just friends, fans and mostly family!

Did the band record other material than the Gigymen LP?

Yes a couple of tracks for the sampler - the First Lame Bunny Album.

Do you know if any member of the band has been involved in any other music projects?

Alex and Katrina and the Waves of course… John has played in various bands and is still writing, Andy now plays for a local Symphony Orchestra…

You are currently Professor of visual neurophysiology and one of your hobbies continues to be writing about music, evolution and neuroscience. Do you still play music?

Yes still playing - some solo (supports for Maddy Prior, Eric Bogle, Jeremy Taylor), lots of bands actually, folk and original (Dot Combo, Crooked Road in Perth), a mandolin quartet called Stringbach, folk-rock (Raggle Taggle Gypsy) - very loud, very good - supported the Fureys at the Perth Concert Hall, these days a covers band called Chain Reaction playing hits from the fifties to the nineties - I play mostly keyboards with that band.

What are your feelings about the Gigymen LP today?
Loved the band - we all went our separate ways after we left Cambridge… medicine, publishing, academe, etc. but we could have been so good if music had been our main drive. Still enjoy listening to it and marveling that we did this thing 37 years ago now, we were 21 years old.
Thanks so much for your answers Alan!