Frances Mary Hunter Gordon & Choir of Girls from the Convent of the Sacred Heart, Woldingham - Folk Mass (1968)
26
oct.
2011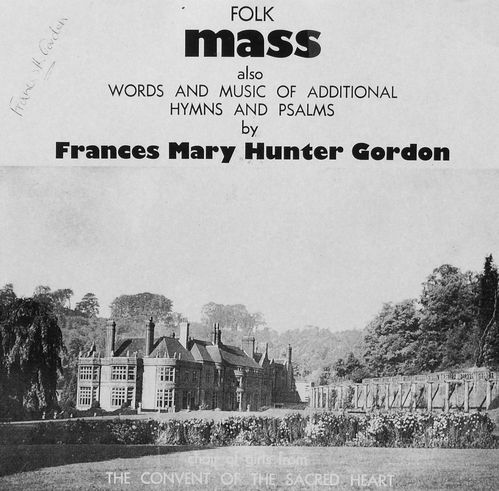 "It seems like another world", says Frances Mary Hunter Gordon, speaking of her album. Is this really that? Only a question of time for a Woldingham girl who wrote the music and the lyrics of this Folk Mass at fifteen? Indeed, the time has passed when, back in the 1960s, listening to such an intimate celebration was a kind of revolution, very different from the unmovable formal mass in Latin. But make no mistake about it. If this LP sounds more suited to our modern ears, the result remains absolutely comparable with real Catholic worship and spirituality: nothing profane, cutesy, touchy-feely type stuff here. Twenty schoolgirls play sparse folk music that is hauntingly beautiful, taking the listener on an ethereal pilgrimage, with their small backing of guitars and eerie vocals. So yes, this one-sided LP is, strictly speaking, unique and otherworldly.
I must admit that Richard Falk was right: "those who love Reality From Dream and similar efforts will adore it".
In God Alone

Gloria

No Not One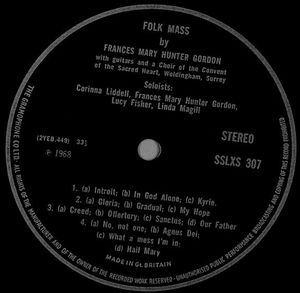 Agnus Dei

Where Has the Word of God Gone

Here's the whole story told by Frances Mary Hunter Gordon herself (it is possible to download the Folk Mass LP on her Last.fm page!).
It all happened such a long time ago now - it seems like another world (it was 1966, I wrote it when I was 15).
Before I wrote The Folk Mass, the Catholic Mass was in Latin and all the music was old fashioned, traditional stuff - very beautiful - but - it was not our music. We were the swinging 60's - the world of the Beatles. So The Folk Mass really broke new ground. The guitar had never been used in church in that way before. We sang the Mass in English for the first time and the style was our style, for our age. At the time it was a big thing, selling to many parts of the world. Meanwhile, I was in my last few years at school, trying to pass exams to get into medical school (I am a doctor), having turned down an offer from EMI to write pop songs for artists such as Cliff Richards!
I never made any other albums. I was far too busy learning to be a doctor and then working. Early on I did play a few folk gigs. I sang all the favourites of the time - Streets of London, Leaving on a Jet Plane, Clouds, As Tears Go By, Where Have all the Flowers Gone, Yesterday, Summertime etc. I also had quite a few non-religious songs that I had written myself.
When recording The Folk Mass (at the same studio used by The Beatles) I was very very nervous. To calm myself between recordings I would go off into a corner and sing and play my other songs. Afterwards I was asked to meet someone at EMI. I had not realised, but the whole studio was miked up and they had heard my other songs and were interested in getting me to do them. I was so set on Medicine that I declined, saying I had to concentrate everything on that. This was when they suggested that I write for someone else. But I said no.
It was all a very stressful thing because the weight of it all was on me. The school (the nuns) were happy for me to do it, but took very little part themselves. I had been singing it with a small group of my friends for a while at school (where Mass was attended every morning before breakfast). Then the whole school learnt it and we all sang it at Mass (including the nuns). Then a small group began to be asked to sing it at other churches on Sundays.
Once EMI became interested in a recording then a small group had to be chosen for that. Many girls were very keen to be on a record, but they were not keen to do the amount of rehearsal necessary to get to a suitable standard. I had to make myself very unpopular with many of them. This is hard for a girl of that age. And then always at the same time I had to work for exams and more exams and more exams. But - by the end, we were all still friends - and I still keep in touch with most of girls who were in my class.
When records were sold, the lyrics with guitar tabs were enclosed with them. This was because most records were bought by churches, parishes, schools, around the world, who wanted to learn it themselves. It was on the radio occasionally and was featured in various catholic magazines.
For me there were two highlights:
- The first was when a novice nun asked for it to be played during the ceremony when she became a proper nun. This ceremony is a huge thing - like a wedding. The woman comes in as a beautiful bride (of Christ). She leaves as a nun in a nun's habit. It is very moving.
- The other occasion I didn't hear about till a short time ago. The mother of someone who had been at the school asked for it to be played at her funeral - and it was. For me - there can be no greater reward than knowing that.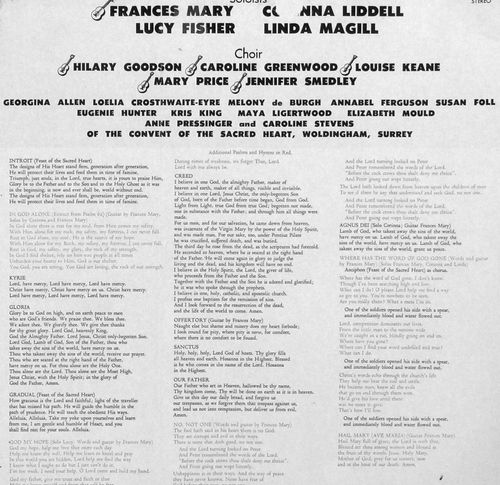 I have also been looking through all the old paperwork to answer your questions. What memories it all stirs - wow.
The Mass was recorded on Saturday 18th November 1967 at Studio 3, Abbey Road, London - the same Abbey Road that The Beatles recorded in. That year the Beatles produced Sgt Pepper. They took over 700 hours at a cost of about £25,000!
We had a 3 hour session starting at 2.30pm.
There were 20 performers (20 voices with 6 also playing guitar).
I was 16 years old.
It was a Mr Christopher Bishop in charge of the recording.
The record was very unusual in that it was only on one side of the vinyl, as there was not enough material for two sides. I asked them to make it in stereo. This was a fairly new possibility. The most recent record by The Beatles that I had bought, had been in stereo, although most of us still only had mono record players. I also asked them to put on an echo to get the effect of being in a church.
We rejected the first lacquer because they had put the "Our Father" at the beginning which was not correct. Over all, we had 600 records made, as far as I can see from the paperwork. My father dealt with that side of things. We initially ordered 100 and then very shortly afterwards another 200. Sales over the next while necessitated another 2 orders of 150 each. Burns and Oates the Catholic retailers in London sold quite a number. Many were sold through the school, which I dealt with and others via my parents. We sold to many countries, I have even just read one request from Fiji.
Why didn't I write more music as well as working as a doctor? Ah - you don't understand what it was like to be a young doctor. There was no time. I worked over 80 hours a week regularly, because doctors could only claim overtime after that. And I claimed overtime most weeks (not by choice). There was no time for anything else at all. Then once it all eased a bit, I was old or at least too old to be a rock star!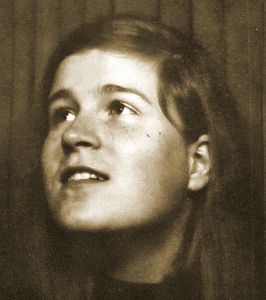 Here are more facts:
We were (those underlined played the guitar as well as singing):
Frances Hunter Gordon, Corinna Liddell, Lucy Fisher, Linda Magill, Louise (Dillie) Keane, Caroline Greenwood, Caroline Stevens, Mary Price, Hilary Goodson, Jennifer Smedley, Georgina Allen, Eugenie Hunter, Kris King, Loelia Crosthwaite-Eyre, Annabel Ferguson, Elizabeth Mould, Susan Foll, Melony de Burgh, Maya Ligertwood, Ann Pressinger.
It was a private record pressing although there did not seem to be a charge for the recording. EMI said "we are intending to absorb this ourselves". This may have had something to do with my uncle knowing Sir Joseph Lockwood (Chairman of EMI)!
The initial order was for 100 records, but due to demand, an eventual 600 were made. One record cost us 7/4 (7 shillings and 4 pence) to buy from EMI. We also had to pay tax of approx. 7/3 (7 shillings and 3 pence) on each record sold. They were sold for 27/- each (£1 and 7shillings) which included a copy of the guitar tabs with words. The original pressing was not correct. EMI thought that "The Our Father" - being a very catchy tune, sounded better at the start. We had to explain that there is a strict order to The Mass and ask for it to be changed. The Record or vinyl was most unusual - it was only recorded on one side (the other being blank) as there was not enough music to fill 2 sides.
We had to arrange and pay for the record cover and inner sleeve to be done separately by Ernest J Day. The outer covers had to be ordered in boxes of 500. We therefore eventually ordered 1000. The second batch had a mistake and had to be re-done. This explains why I still have boxes of empty covers!
Frances.