For All of You - For All of You (1974)
10
sept.
2011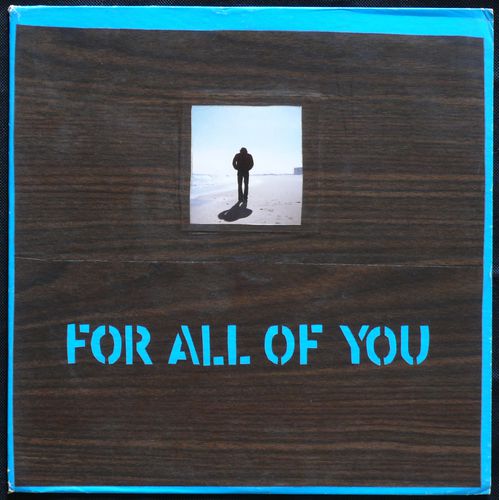 C'est d'abord une vieille Polaroïd, cette silhouette à contre-jour et cette ombre comme un caprice qui déjoue un étrange concours de lumières sur l'horizon bleu pastel fondu au blanc. Sur une de ces plages du Jersey Shore ou n'importe quelle autre de la côte Est, un homme suit le rivage, baigné par cette lumière laiteuse d'un soleil sans chaleur. Et cette étendue de blanc balayée par des vagues à peine moins pales s'apparente moins un lieu qu'à une ligne ; un trajet vécu.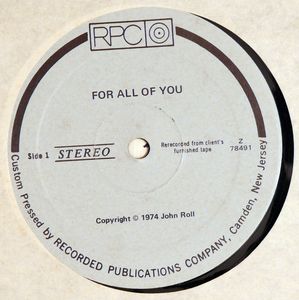 Faire le point, mettre au clair ce qui restait depuis trop longtemps en suspens, ajourné, tel est l'objet de For All of You, ce disque en forme de dédicace qui s'écoute la nuit en sachant que l'heure blafarde accouchera d'un matin serein. Il y a quelque chose d'infiniment précieux dans ce disque, que l'on doit à John Roll, moins loner/downer qu'il n'y paraît. Enregistré en 1974 à la First United Methodist Church de Westfield, NJ, en compagnie de quelques acolytes, For All Of You distille une musique ouatée, arpentant les territoires d'un folk qui flirte souvent avec le jazz, entre ballades tremblées (ligne de piano perlé versus guitare discrète de "23 April") et titres plus mid-tempo (basse et bongos).
On savait que le catalogue RPC, principal custom label avec Century, au nombre duquel figure For All of You (pressé à 100 exemplaires au dire de l'artiste) se signalait par quelques-unes des productions les plus recommandables (Tool Shed, Fāz, Ron Joseph…). Il semble bien, comme en atteste ce trésor perdu, qu'il recèle encore quelques surprises.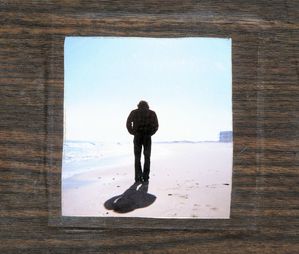 Check out what Patrick the Lama said about this LP:
« Essentially the work of one John Roll with support from various friends, this is one of the more interesting albums in the loner/downer '70s zone to surface of late - primarily because it isn't really loner/downer at all! A slightly quirky and warm feel dominates as typical s-sw songs bring in mellow jazz moves mixed with a melodic sensibility. Communication 1, Philip Lewin's debut, or even Virgin Insanity spring to mind during the better tracks; best not to set the expectations too high, but this one's certainly worth checking out for the average private press aficionado. On RPC (aren't they all?), but with an unusual grey label design I haven't seen before. »
http://lysergia_2.tripod.com/blog/
23 April

Watch the Sky

The Easy Way