Dave John Grew - Alone and Dreaming (1982)
30
janv.
2012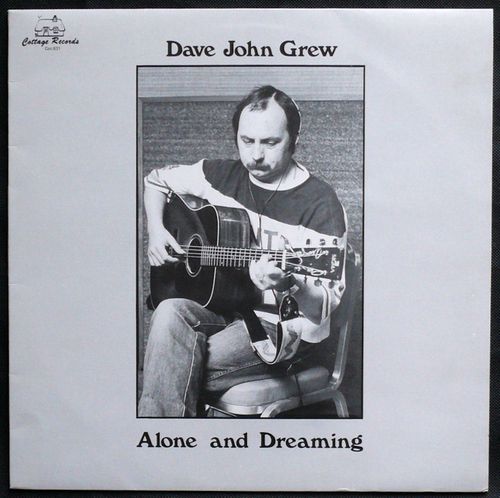 Dans une autre vie Dave John Grew se soucierait des apparences et ne supporterait pas les Giants. Alone and Dreaming serait sorti 10 ans plus tôt, ailleurs que sur Cottage. Ce LP, qui n'aurait pas été enregistré aux Woodbine Studios de Leamington Spa, serait connu de quelques-uns. Il serait écouté pour ce qu'il est, une agréable surprise. De bons originaux (les ballades notamment), des reprises bien choisies : Judy Collins, ("Fishermen Song"), l'improbable "Arthurs Theme" de Christopher Cross. Rien de crucial, mais la sensation d'entendre une voix authentique se fondre dans un creuset folk toujours à revisiter.
PS : Dave John Grew a vraiment eu une autre vie. Il fut l'un des membres de Brandywine Bridge aux côtés de Sheila Copson et Stuart Hague et co-auteur de The Grey Lady (1977) et An English Meadow (1978), parus également sur Cottage.
In another life, Dave John Grew would have cared for fashion and would not support the Giants. Dreaming and Alone would have come out ten years earlier on another label than Cottage. This LP would not have been recorded at the Woodbine Studios, Leamington Spa. It would be known by a few fans and above all, would be appreciated for what it is: a good surprise with some nice self-penned numbers (the ballad songs in particular) and a few interesting covers ("Fishermen Song" by Judy Collins or "Arthurs Theme" by Christopher Ross). Not crucial in any way, Dreaming and Alone is nonetheless an above-average effort and it is worth hearing - Dave has a very authentic voice, maybe a bit too much for some of you.
PS: Dave John Grew really had another life: he was one of the member of the Brandywine Bridge band and recorded two albums with them, also on the Cottage label.
She Likes to Keep Flying 'Round'
Wild Rover
Alone and Dreaming