Bob Boden & Rick Hammang - Home Wrecker (1978)
12
juin
2011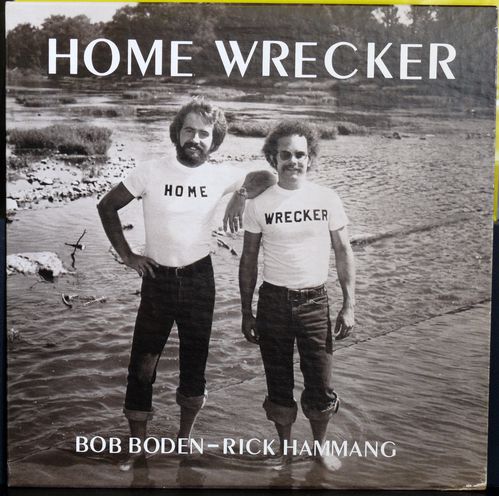 Qu'attendre d'un disque qui se veut le fruit d'heures perdues ou gagnées - c'est selon - sur les rendez-vous professionnels et autres obligations familiales, écrit sur le pouce et enregistré entre deux cafés comme on tromperait l'ennui à noircir des grilles de mots croisés où à rêvasser, ainsi que le concèdent Bob Boden & Rick Hammang de Home Wrecker ? Qu'attendre de ce même disque quand nos deux comparses, non sans avoir revêtu leurs plus beaux atours (t-shirt promotionnels et jeans remontés à mi-mollet) affrontent pour leur pochette la fraîcheur revigorante d'une rivière du Michigan dans une pose qui doit autant à l'amitié virile qu'à une certaine conception de l'élégance masculine tout en brushing impeccable et barbe savamment taillée ? Rien de champêtre ni d'alangui en tout cas.
L'album s'ouvre sur le tonitruant et power-pop Home Wrecker et ne s'éloignera guère de ces rivages où il est fait grand usage de la guitare fuzz. S'ils aiment parfois brouiller les pistes (deux instrumentaux ambient 70s/80s superflus et le surprenant "Given Up On Everything", petit bijou funk qui invite aux déhanchements), Bob Boden et Rick Hammang s'emploient à aligner quelques bombinettes pop qui, pour peu que l'on ne soit pas réfractaire au son et à l'esprit D.I.Y 70-80's (bricolages à deux euros six centimes et synthés qui n'en coûtent pas plus) ne sont pas loin de devenir indispensables.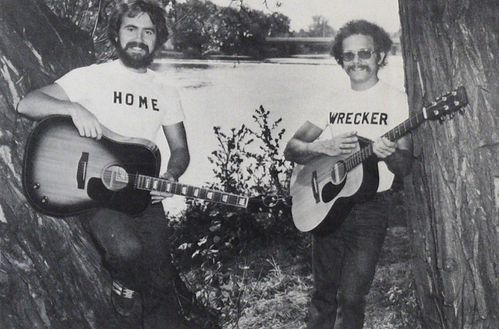 I love the cover, their nice look with promotional tee-shirts (I need one so bad…), as well as their footnote*, but I wasn't sure what to expect from this thing. Being a real people aficionado, the review in Acid Archives picked up my interest, so I managed to find a copy. I did well. The content is pretty impressing and definitely not just for outsider music collectors. Except maybe two ambient songs, Home Wrecker has a strong pop sensibility with a nice 70's vibe, plenty of fuzz guitar, great melodies and some memorable hooks. Simultaneously with this LP, the two playboys had put out a 45 equally rare called The Blizzard of 1978 worth hearing but totally different.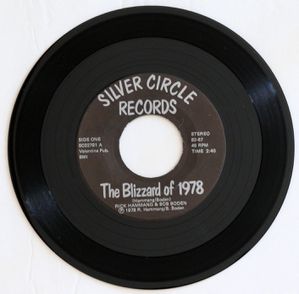 Sunshine

Life of a Guitar Player

No Substitute for Life

*"In this mordern fast world, there often is not enough time to put forth the effort for things that most of us would like to but never the less don't have time to do. Of course, there is a solution, simply take time. In Home Wrecker we have taken time, not someone else's time but our own time. Time between heavy work schedules, families, rest and meals. Time between coffee breaks, borrowed hours, thoughts and dreams".
Robert Boden & Rick Hammand.