Badge - Badge (1978)
17
mars
2012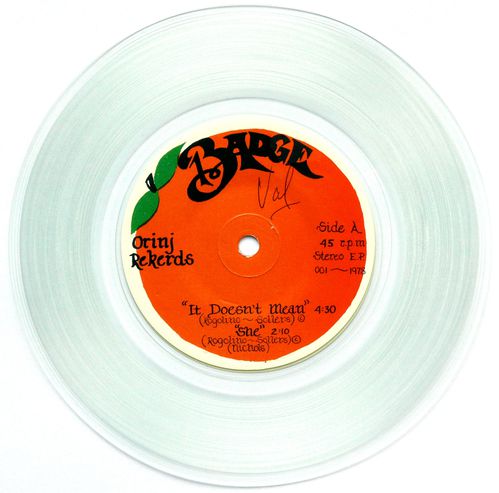 Une fois n'est pas coutume, on préfèrera la rutilance au dénuement, le moiré à l'épure. Soit Badge et son EP paru à 300 exemplaires sur Orinj Rekerds en 1978. C'est la seconde livraison de ce groupe du Maryland, connu pour la plupart sous le nom de Kath par assimilation à leur fameux LP, Kath 1, célébré depuis sa réédition de 2005 sur Rockadelic. Mêmes atouts et quelque chose d'autre dans ces quatre titres. Si on y retrouve le charme homemade de l'album, Val Rogolino et ses comparses y troquent une approche résolument lo-fi pour une pop-psyché plus produite, moins teenbeat sixties d'esprit, dont la sophistication n'est pas sans rappeler un duo comme Pope & Henderson. La reprise de "It Doesn't Mean", déjà présente sur le LP, en est une illustration parfaite. Voix et harmonies plus assurées, guitares sublimées à grand renfort de cuivres, flûte et piano pimpant : autant d'apports qui parviennent à hisser ce titre vers une impétuosité irrésistible.
It Doesn't Mean
This EP is fucking awesome and to be honest, this is not very surprising; it doesn't come out of nowhere! Badge is better known under the name Kath for its well-known and celebrated beatlesque LP (reissued in 2005 by Rockadelic) and that band has nothing more to prove in 1978 when they decide to release it. Their sound evolved quite a bit (for the best!) and one of the songs from Kath 1 ("It Doesn't Mean") has been revamped: it gets even stronger. The homemade charm is still around but this is fully produced now and much more sophisticated, with that great 70's vibe that I love so much... This is like Pope & Henderson!! The other songs are great as well, and the last one could have been on the first Shoes album. In short, a great record, but not only that! It's also one of the rarest 45's I own. According to a band member, only 300 copies were pressed, 100 each in black, orange and clear vinyl, what makes it even more interesting.
A special thanks to Tony Coulter who introduced me to this great EP.