Athanor - I Don't Mind / Urizen (1974) + Read Me / Memory (1975)
21
nov.
2011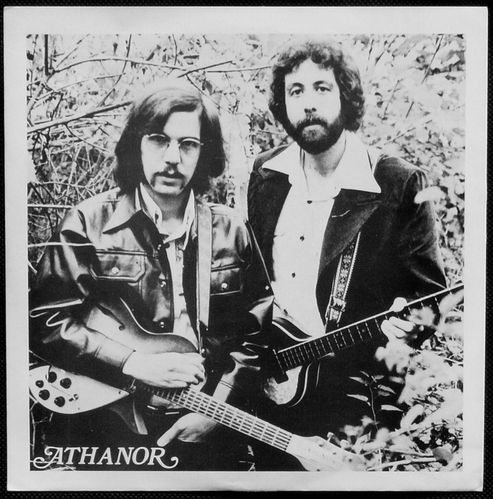 Des sentiments mêlés, entre plaisir et frustration. Voilà le genre de 45t qui fait regretter l'absence d'une livraison plus conséquente, un LP de rigueur. Derrière ce nom sibyllin et ces pochettes sylvestres se cache un duo pop de Chicago dont la production confidentielle (500 pour le premier 45t, 1000 pour les deux suivants) s'étend de 1973 à 1975. Mais est-on vraiment au milieu des seventies ?
Du mid-tempo psyché "Urizen" et sa 'backwards guitar' familière depuis "I'm Only Sleeping" à "Memory", bluette pop tout en piano et harmonies vocales, chacun des titres de Greg Herriges et Rick Vittenson pourrait passer pour un manifeste pop psyché sixties, à peine trahi par des tonalités power pop accrocheuses. Une nouvelle fois, on parlera des Beatles, du Lennon tardif plus précisément, une mine dont le filon semble inépuisable. Le dialogue entamé avec les Fab Bour est de ceux qu'on n'achève jamais. On peut d'ailleurs, comme Greg, le poursuivre à travers l'enseignement ou la littérature. En attendant, on se contentera des six titres mis en boite par notre duo et, qui sait, quelques autres attendent à l'ombre d'un placard qu'on les livre à notre éternel appétit de trésors exhumés.
There are only two categories of music: the good one and the bad one. And there are just two kinds of bands: those who get famous and the others. Guess where Athanor falls into? Yep, here's another great lost pop band from the golden '70s. This is especially true given that their album was never released! However, this Chicago based band put out three 45s in the early to mid-70s. I've heard just two of them, but enough to see how good they were! Athanor's music shows some power pop tendencies at times (that Rickenbacker sound?), but it's purely coincidence. In fact, Greg Herriges and Rick Vittenson were still in the sixties, following the steps of The Fab Four (the psych side and the late-Lennon in particular) - a more obvious influence here. "Read Me" for instance, is nothing else that Greg pretending he was John Lennon. So, if this is your style, you know what you have to do. I bet those infectious melodies will not leave your head.
Urizen (Your Reason)

Read Me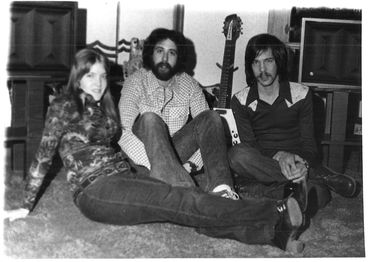 Interview with Athanor (Greg Herriges and Rick Vittenson).
Please, tell me a bit about yourself and how Athanor was born?
GREG: I was a very serious college student majoring in English. I'd given up music for good, I thought. My wife at the time, Cara, and I married young. In 1972 she gave me a Guild 12 string acoustic guitar for Christmas. For the first time in my life harmony was everywhere, with every strum of the strings. I began writing songs again, as I had in high school. Man, I was writing nearly a song a week!
Soon I had wrapped up my BA in English and was making money as a high school English teacher. I bought tape decks, a mixing board - and called my old music buddy Rick Vittenson to help me form some kind of duo or group. We rehearsed from January 1973 until June of the same year, and we decided to record a single of two of my songs - "Inner Space" and "Graveyard". We added some other musicians - Mike Miranda on lead guitar, John Bunkelman on bass, and David Winogrond on drums, and recorded both songs at a midnight recording session at Paragon Studios in Chicago - on a 16 track machine at 30 ips. The result was pretty good and we had it pressed up as a 45 rpm disc. It received a lot of airplay on WVVX, an FM underground radio station. Exciting!
RICK: Greg and I met in high school through our mutual friend, Mark Breyer. I played guitar in a group called The Voyagers. Greg had a band called 4 To Go, which I joined in late 1965. After the band split up, I joined The Domain in the summer of 1966. In 1967, I went to college at the University of Oklahoma, effectively ending my band days for a couple of years, although I played in the dormitory with other students who had bands of their own, including Bingo Sloan, who later played (and is still recording) with Dwight Twilley. I left Oklahoma in 1969, returning to the Chicago area to attend a commuter college where Mark was also studying. During that period, Mark and I formed Brevity, which also included David Winogrond (Mark and David later moved to California and comprised 2/3 of Skooshny). I also wrote on rock for various newspapers and magazines, including "Crawdaddy!," and interviewed Marc Bolan, Ray Davies, Fairport Convention, The Jeff Beck Group, and Jimi Hendrix. My photos of Jimi have appeared on two Hendrix CDs.
When Greg called me and we started playing together again, it was if we had never stopped. Like the best of partnerships, our styles melded together perfectly.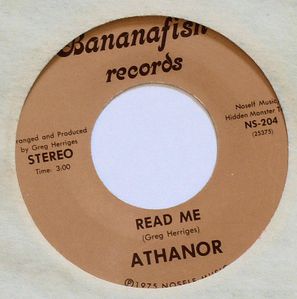 Why did you choose this name?
GREG: Athanor, according to The Encyclopedia of Occultism, is a hill where the wind and the rain meet, and there is red arsenic in there too, but don't ask me where. I had read a book of poetry by Penelope Rosemont that I loved called Athanor. It was just a cool spooky name.
What were your influences at that time? The Beatles and power pop spring to mind.
GREG: The Beatles, yes, and in my case particularly John Lennon. His spare, heavy rocker numbers like "Cold Turkey" and anything on Plastic Ono Band knocked me out. But I was also influenced by acoustic folk sounds, and I'd been a big Dion fan since I was eleven years old. The greatest night of my life was when Dion brought me up from the audience to sing "Teenager in Love" with him at the Ivanhoe Theater, in Chicago, 1976. I suppose I should add Paul Simon to the list of influences. I also was entranced by the German group Amon Dull II, back in those psychedelic days, especially their Wolf City album. But no matter what I wrote, once Rick joined in there was harmony galore. That's where that Athanor sound comes from.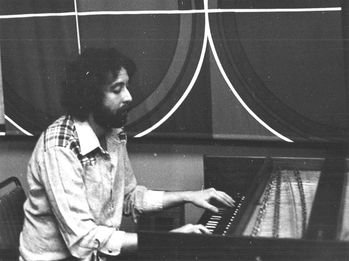 RICK: Without question, The Beatles were a major influence on me, as well as the British Invasion and garage rock. I liked just about everything I heard during that era, with a preference for the songwriting of Ray Davies and Pete Townshend, the soaring harmonies that Graham Nash brought to The Hollies, and the amazing songs that Brian Wilson and The Beach Boys were recording from the mid to late sixties. I bought every record I could during that era and taught myself how to play every song on every album. I loved harmonies, and tried to figure out every vocal part, with a preference for the highest notes. By 1970, I had pretty much stopped listening to radio and any new music apart from the occasional Beatles solo projects and Dylan albums, so I was unaware of the early seventies power pop bands that were emerging at the time. It wasn't until 1977, when I heard Cheap Trick and Elvis Costello, that I started becoming interested in new music again. I didn't go backwards, so it was literally decades before I heard and came to appreciate bands like The Raspberries.
How difficult were the recording sessions? Were you happy with the ending results?
GREG: I was so intensely focused during the sessions that I can't say any of them were difficult. Some of them were long, and I'd get exhausted, and then have to go straight from the studio to the high school and teach all day. I was learning production techniques and we always wanted to tweak a track, do it over, add new sounds, but we were limited because recording was expensive, and we were young and just trying to learn our way around a mixing board. Some engineers were better than others.
RICK: We didn't have much money at the time, so we booked the midnight shift at studios, when the rates were appreciatively lower. So we were coming into the studio after a full day of working. I thought the sessions went quite well, as we were well-rehearsed prior to entering the studio. I do remember one hilariously disastrous night when we were working on vocal harmonies. I had read an article where some '70s rock artist claimed that drinking Courvoisier in the studio helped him to reach the high notes. So I took his advice, but instead of finding it easier to sing, I just got drunker and drunker!
Where were the pictures of the 45s were taken (it seems to be the same place)?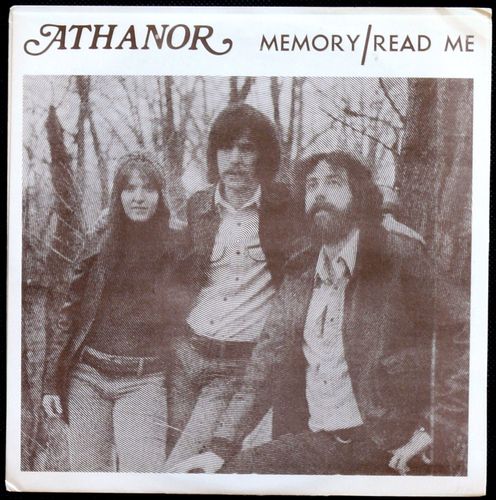 GREG: The photo of the single jacket "I Don't Mind"/ "Urizen" was taken on the wooded bluff overlooking Lake Michigan in Glencoe, Illinois, that was Cara's mother's elegant home. She and her husband were very generous and gave us a bedroom that was our rehearsal room. We kept amplifiers and a drum kit there. Cara had a magnificent red and green transparent plastic Ludwig drum kit.
The jacket photo for "Memory"/"Read Me" was taken in a public park about six miles from Cara's mother's home. We liked the woods, the natural setting.
Was it possible to find any of your records in shops? Maybe they were only sold at gigs? How many copies were pressed of each 45?
GREG: There was only one record store in Glencoe, Illinois that sold our records. Most were sent to record companies as we were trying to get a big record contract, or to radio stations around the country. "Inner Space"/"Graveyard" only had a run of 500. I think we did a thousand of "Memory" / "Read Me" but I don't recall.
Did you ever think about making an album? If yes, what happened? I know there was enough Athanor material for that!
GREG: Yes, but you see life got in the way. That was one of our great disappointments, that the album was never assembled. The record business was changing, the band broke up, Cara and I got divorced, Rick became a lawyer, and we didn't speak for years. Rick and I have been good friends again for a long time now and we often think about putting together an Athanor album. We have all the original tapes.
In fact, we were having our weekly Irish breakfast together last Friday and pondering how we might finally put the album together. Hey, Alexandre, got any tips who we might approach with this idea?
What is the role of music in your life?
GREG: It has always been the center of every day. I am a writer and professor now, but I listen every chance I get, and I teach a legitimate college rock and roll class and a Beatles class. It is the soul essence of my existence. I find myself in the horrible position of possibly losing hearing in one ear. If that happens - I'll just get used to mono, the way Brian Wilson has. Better one ear than none. But the surgeon says I have some time before that eventuality comes around.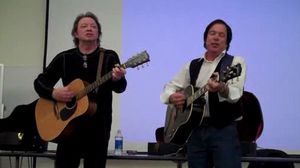 NB: If you're wondering what a Beatles class is, have a look to this video (do you recognize the guy with Greg?): http://www.harperdoit.net/herriges/
RICK: I owe everything good in my life to music. I didn't start talking to the woman who was become my wife until she showed up at school with a guitar. All of my best friends came into my life because of music. My son-in-law plays guitar... better than I do. My son is a drummer and my daughter has an amazing voice. When I started a new job in 1995, I discovered they had a house band, which I quickly joined and eventually led. I joined a bunch of fellow musicians in my neighborhood as a lark to play on a Fourth of July parade float. That band ended up staying together for many years.
Were you surprised to learn that one of your songs has been compiled? What's your feeling about that?
GREG: You know, I was flattered, but it would have been nice if someone had asked for permission or offered royalties - and if they would have listed Rick as my music partner instead of Gary Gand. Gary's a friend of ours, but was never in the group - ever. So I thought, It's cool that someone knows we did this and is popularizing it, but there is a protocol. There are laws. We would have gladly granted permission.
RICK: I guess my answer is "yes" and "no." "Yes", because the song was used without Greg's permission. "No", because everything gets out there eventually, with or without permission. It would have been nice if the label had worked with us, given us some copies of the CDs and paid Greg royalties. And we could have told them who was in the band!! I find it quite funny that the liner notes say that Athanor was "actually" Greg and Gary, not mentioning me at all!
Do you have any plan for the future? Do you still play music?
GREG: I barely have time to play today. I released three books this year - Streethearts, Lennon and Me, and The Bay of Marseilles and Other Stories, which Rick helped me edit. I teach full time. But I do have plans to ask Rick get together with me to do another single. I'm sure we could knock out a great one - give us enough steam to let us settle back again at Irish breakfasts and say, "Well - we did it again. Pass the Johnnie Walker, please."
RICK: Greg and I occasionally get together to play at his house. I've auditioned for a few bands over the past few years, and although I've made the cut, I find that very few guys my age still want to rock. I don't like the idea of music as background. I want to play music that makes you stop whatever you're doing and listen and dance. And regardless of whom I play with, nobody sounds as good singing with me as Greg.
In 2000, I joined the cast of the Chicago Bar Association's Christmas Spirits show, an annual musical review of current events that runs for a week around Christmas time. I'm one of the head writers and perform each year. Although there is an orchestra in the pit providing the music for the show, I usually find a way to work a guitar and harmonica into my number.
Is there a question that I should have asked you that I didn't?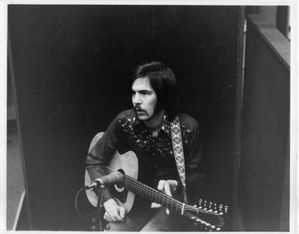 GREG: Probably not - but I'd like to get in here that at the time, in 1972 and 1973, waking up each day and recording another demo were the most exciting things I have ever done. I was in a rich period of inspiration and imagination, and the tape recorders, the Rickenbacker and Guild guitars, were all magical implements. I remember Lennon's Mind Games, a sandalwood incense burner from China that we had going night and day, visits to the cosmos, an upstairs listening room with a quadraphonic speaker system, a Persian rug, Indian designed pillows. We really were living a psychedelic lifestyle. And we were only 23. It was fabulous.
RICK: Pass the whisky!!
Thank you Greg and Rick, both for your music and your time.
NB: Greg is the co-producer of the film Player: A Rock and Roll Dream, an excellent documentary about the Chicago garage bands. It may interest some of you: http://www.harperdoit.net/player/