All Sorts of Folk - All Sorts of Folk (1972)
21
sept.
2011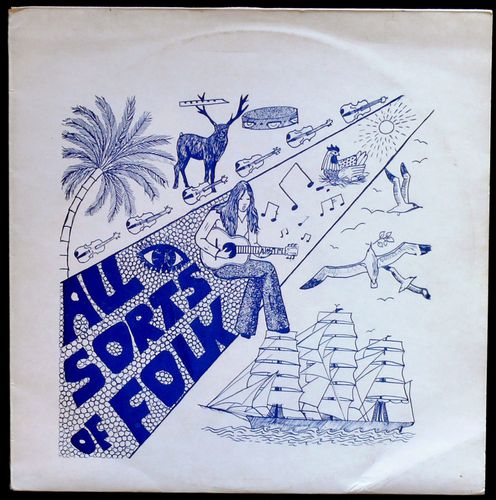 Ecouter ce disque, c'est embarquer sur le Trois-mâts carré du capitaine John West et de son équipage recruté parmi les élèves de la Katharine Lady Berkeley's School. C'est se laisser gagner, toutes voiles dehors, par une musique qui s'éploie en douceur, portée le plus souvent par le nylon fragile d'une guitare et des voix encore plus fragiles, éblouissantes de pureté. Pure est l'épithète toute homérique qui vient spontanément à l'esprit, mais c'est ainsi : la vie abîme et pas seulement les cordes vocales.
Un rapide coup d'oeil à la tracklist - ces 'songs and ballads' essentiellement empruntées au répertoire folk traditionnel - laisserait-il circonspect ? C'est ne pas connaître ces disques à la beauté précaire, habités d'un souffle d'autant plus précieux qu'inattendu et dont l'écoute devient un rituel magique qui ne se partage pas.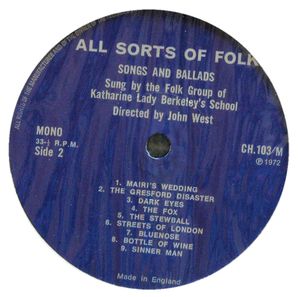 Listening to this album is a bit like boarding a square-rigged ship. The captain is named John West who in fact was not a sailor at all nor a music teacher but an old chemistry instructor who ran a folk group - a crew that consists of the talented 'troublemakers' of the Katharine Lady Berkeley's School - independently of the music department.
All the songs are really well done, often incredibly beautiful, sometimes magical with a fragile and delicate flavor. The result is a fantastic listen but All Sorts of Folk would not have been the same without "Selection of Tunes for English Folk Dancing" (an accordion medley with a peculiar charm) which is just stunning (it reminds me the most traditional elements of Frock and that's a huge compliment).
Oh Dear Me
A traditional song ilustrating the hard working conditions in the Scottish jute mills, a long time ago.
Stewball
Adapted from an Irish ballard of a race horse named Sku-ball.
Street of London
One of Ralph McTell's songs. The message is clear.
Bluenose
This is a song about a ship and not an Eskimo.