Van Spyk & Friend - Going Nowhere (The Acetate) (1971)
27
janv.
2017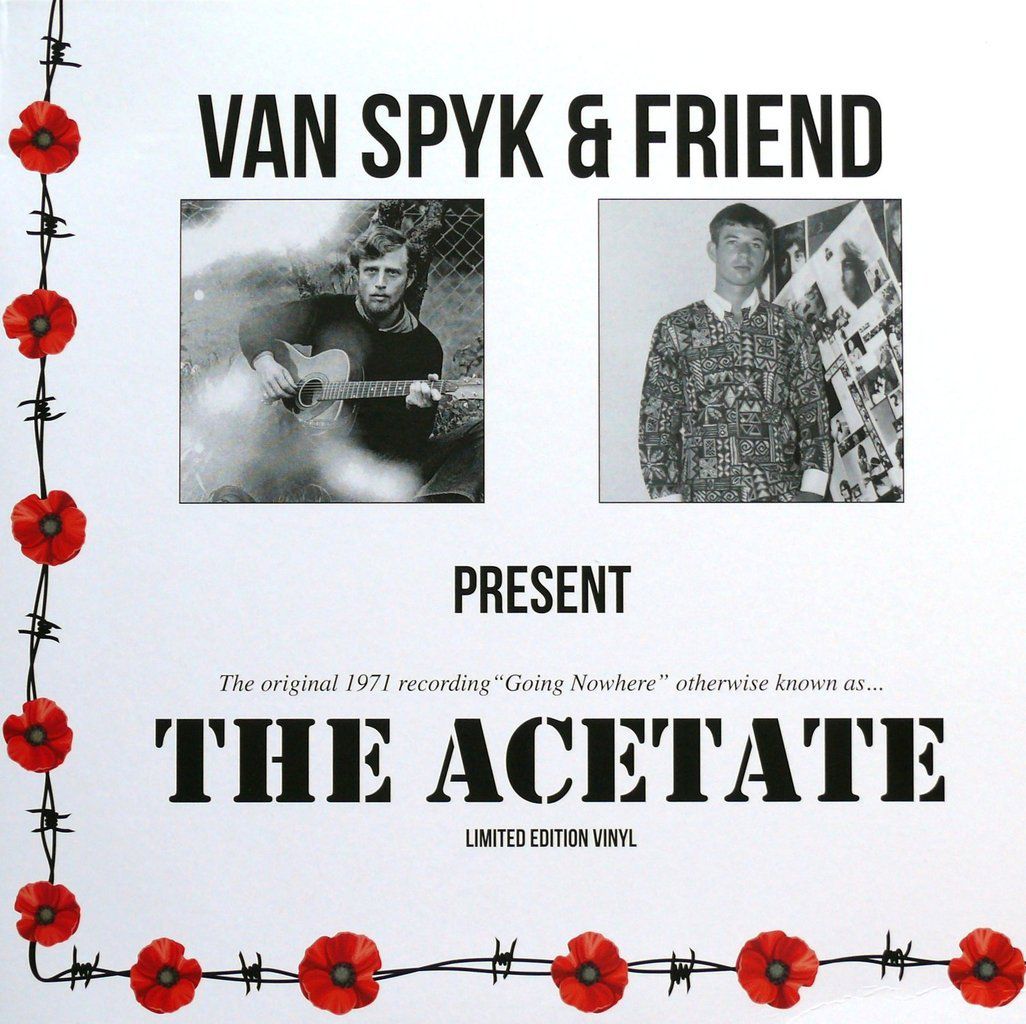 More than five years have passed since I reviewed "Follow the Sun" and "Come the Day" the lesser known of the Terry Friend commercial releases (who is more famous for his now cult underground folk band Stonefield Tramp). It is therefore high time to have a few words about his beginnings as a musician and his first musical project, which was just reissued in late December 2016 on the Tramp label (or released for the very first time if you consider that the number of original copies of "Going Nowhere", also known as "The Acetate" can be counted on one hand). The story of this recording is interesting because Terry not only never had the intention to release an album at the time but thought that he was writing poems, not song lyrics. He realized he was wrong, started learning music, called his friend Rob Van Spky (a folk singer and songwriter) and it's how a great but unexpected song writing partnership started. All the songs are self-penned and mostly a combination of voices with guitar only with the exception of "Doing Thing Naturally", "A Country Divided", "Lady of the East" (three beautiful tunes with flute, among the best pieces on the album) and the opening title (a lovely spoken word song with a typical British feel). The recording quality of the album is obviously raw, there are hit and miss, the guitar playing is sometimes plain (particularly in the more energetic songs) and the duo was still searching for its identity, but there is a lot to like in this recording. The moodier songs are excellent, the quality of the lyrics is very good, and most importantly, Going Nowhere offers a fascinating lost-in-time atmosphere.
If you only own like three UK private pressing records, I don't think that "The Acetate" needs to be your fourth, but if you're a fan of the genre - in other words, if you're the kind of person who like reading the reviews of the more obscure folk albums on Galactic Ramble and searching all the time for new gems on labels like Deroy, John Hassell Recordings or Acorn - this will be right up your alley and like many of the albums put out by these prestigious labels "Going Nowhere" will perhaps someday become a collector's item knowing the fact that this reissue is a limited edition of 250 copies. "The Acetate" comes in an elegant cover accompanied by a CD version of the album.
You can purchase it directly on the Terry Friend website and listen to some other samples out there.
As the Sun Rises

A Country Divided